On a mission to fill an information void, in 2019 the Global Child Nutrition Foundation (GCNF) conducted a Global Survey of School Meal Programs©. We learned a great deal from that survey as can be seen in the new report School Meal Programs Around the World The COVID-19 pandemic has added tough lessons for school meal programs, however, and heightened the urgency for understanding and investing in these programs.
School meal programs have existed for decades—for more than a century in some countries. Yet they have not been documented in a consistent and comprehensive manner, making it hard to compare programs, determine successes and challenges, or identify trends, needs and opportunities. The GCNF survey, funded in part by the US Department of Agriculture, begins to fill this void, and plans to update the information every two to three years, with the second round to start this July.
The 2019 survey drew responses from 103 countries, representing 78 percent of the world's population. Of those, 85 reported about one or more large-scale school meal program serving 297.3 million children between ages five and eighteen. All the countries reported focusing on primary schools, and two thirds reported also targeting pre-school children. Just under half (47 percent) said they targeted secondary school students.
School meal programs are a vital social safety net.
Almost three quarters of countries responding to our survey said that their programs were a social safety net, offsetting household costs for families of poor or vulnerable children. The alarming increase in out-of-school children and rising child hunger due to the COVID-19 pandemic has emphasized the need for such safety nets to expand as the entire food supply chain has been affected by the health crisis and many schools remain closed or unable to provide food.
Programs have responded innovatively by engaging different partners like food banks, restaurants, and churches and pivoting to different distribution methods such as pick-up, home delivery, or electronic vouchers. But programs will need to shift again to effectively bring children back to schools when it is safe, and it is critical that governments safeguard their school feeding budgets and ensure programs are part of pandemic recovery plans. One of the best-documented benefits of school meal programs is that they incentivize school attendance; and help children to focus on their lessons and learn.
The impact of school meals can be even greater for adolescent girls—especially in light of a predicted increase in rates of child marriage and teenage pregnancy around the world. Well-nourished girls achieve better learning outcomes, delay marriage and early pregnancy, and have the opportunity to advance their lives. Yet the survey found that only 47 percent of programs targeted secondary school students and regions with the lowest levels of secondary school feeding programs are where early marriage and pregnancy rates are the highest.
The survey shows that many countries are investing heavily in school meal programs, yet coverage is weakest precisely where the need is greatest. While financing remains a challenge in many countries, it is clear that programs were most successful when funding is earmarked in national budgets. Those investments are well justified, as school meal programs bring several pillars of development together under one umbrella. I used to think about school feeding as a trifecta, with wins for education, health and nutrition, and agriculture. The survey has given a more holistic picture of a spectrum of benefits and shown that school meal programs are actually better than a trifecta, by also driving inclusive economic growth.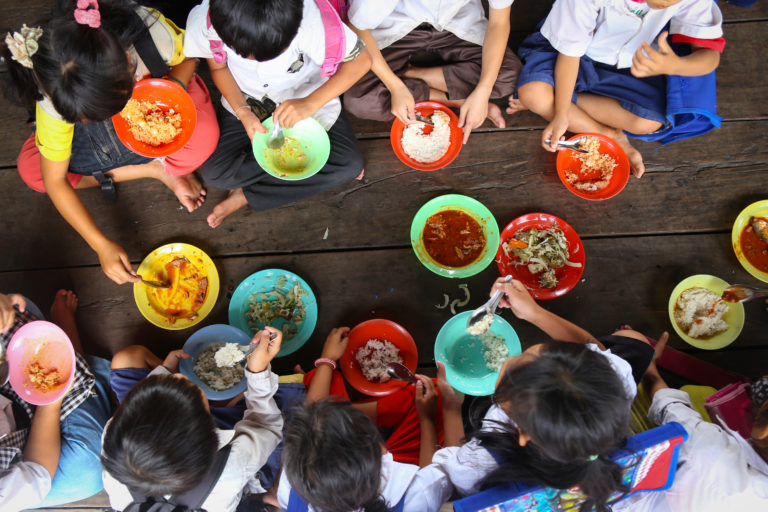 School meal programs support producers and helps build resilient supply chains.
The survey found that these programs constitute significant institutional demand for safe and nutritious food. This supports producers, encourages production of healthier foods for children, and helps to build resilient supply chains. Harnessing this buying power could have a powerful and positive effect on both national and global food systems.
That's not all: School meal programs create jobs and encourage private sector development. The survey noted over 4,000,000 jobs linked to school meal activities in the 53 countries that were able to provide some job-related data. Nigeria reported 107,000 cooks and food preparers; Burkina Faso, a low-income country that prioritizes school feeding reported 19,980 cooks and food preparers; and some 2.6 million paid "cooks cum helpers" were involved in India's massive school meal program. Furthermore, school meal programs provide countries with an avenue to improve economic opportunities for women: Nearly all countries reported that between 75 and 100 percent of their school cooks are women. Unfortunately, 31 percent of programs said that very few or none of their school cooks were paid for their work.
In the wise words of GCNF's co-founder Gene White, "[p]owerful things happen when parents, educators, community organizers, local businesses, and government officials within a school system share a common vision for healthy children. Yes, a child's prospects are changed, but it is far more than that. Local farmers work with purpose knowing there's a ready market for their goods. Jobs are created to distribute and produce food. Local economies grow stronger as children grow up to be healthy, productive citizens who can access and create opportunities. When systems work together in this manner, school nutrition programs are sustainable and scalable. Societies develop in which hunger is not a barrier to children's learning and local economies thrive."
The pandemic wreaked havoc on school systems and disrupted school meal programs around the world. At the peak of school closures in April 2020, 1.5 billion children were out of school, and 370 million children were not receiving the school meals they depend on. Program implementers worked desperately to adjust their programs to safely serve the most vulnerable despite the closure of schools, borders, travel and transport options, and most businesses. Funding for school meals was also taxed, as governments and donors alike focused their resources on health care, safety measures, and finding a cure. The 2021 Global Survey of School Meal Programs © will begin this July and aims to capture the impact of the pandemic for at least one full school year. In the wake of the COVID-19 pandemic, it is critical that we invest more than ever in school meal programs as a path to recovery and toward a better future. Much better than a trifecta, no?
Read the full article on the Chicago Council on Global Affairs' Global Food for Thought blog.