It has been a few months since school meal programs last gathered together to discuss the current state and future of school feeding. We have done our best to capture the insights, highlights, and more from the 2022 Global Child Nutrition Forum held in Cotonou, Benin in this Forum Report. GCNF wishes our most sincere thanks to Catholic Relief Services for providing feedback and graphic design for the report. 
Available in English and French, we hope readers who were not able to join us in Cotonou will be able to take away just as much information as those who participated in person. Opening and closing ceremonies, plenary sessions, breakout workshops, and school visits are accompanied by photos from the event and links to learn more. Head to the Global Child Nutrition Forum page to start reading!
In the meantime, please enjoy this excerpt from the report on the plenary session presented by the Government of Benin on the country's National Integrated School Meal Program.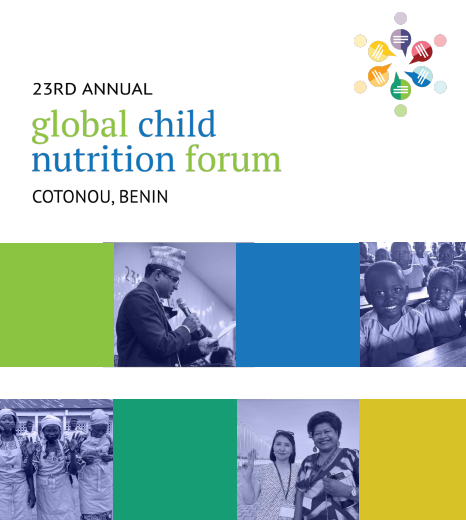 The National Integrated School Meal Program of Benin
In order to correct disparities across geography, gender, and other barriers to access, the Government of the Republic of Benin founded the National Integrated School Feeding Program, implemented through the Ministry of Preschool and Primary Education. Although other organizations operated programs in Benin in the past and the program is carried out in partnership with other organizations, the government is the primary funder of its national school feeding program. 
Benin identified school feeding as an essential measure in combating the inequalities listed above in addition to fighting hunger and poverty. The school feeding program in Benin has three main principles – effective management and preparation of meals, purchasing local, and complementary activities. A comprehensive set of data collection measures follows the implementation of the program at various levels and in a variety of indicators. Access to drinkable water, access to rural areas during the rainy season, and low participation from some communities in school canteen activities are some of the challenges faced by Benin in carrying out the program. Benin participated in the pilot of the Global Survey of School Meal Programs and has continued to contribute its data to the global database.
What we learned
The Government of Benin has set an ambitious goal of achieving a 100% coverage rate in their 7,500 schools by 2023

Innovations from universities and research institutions have become more prevalent throughout the program

Supplementary activities include deworming, following the nutritional status of students, medical care for students and cooks, and the promotion of sanitation and school hygiene

There is a strong emphasis on bettering the productivity of small-scale farmers and the quality of their products to address the challenges currently faced in those areas.