President
Gene White, MS, SNS
Gene White & Associates
Past President, School Nutrition Association
Secretary/Treasurer
Penny E. McConnell, MS, RD, SNS
Former Director, Food and Nutrition Services
Fairfax County Public Schools
Vice President
Ronald E. Kleinman, MD
Physician-in-Chief, Massachusetts General Hospital for Children
Chief, Partners Pediatrics
Charles Wilder Professor of Pediatrics, Harvard Medical School
USDA Liaison
Cindy Long
Child Nutrition Director
USDA Food and Nutrition Service
Emmanuel Ohene Afoakwa, Ph.D
Assistant Professor
Department of Nutrition and Food Service
University of Ghana
Daniel Silva Balaban
Director & Representative
Centre of Excellence against Hunger, Brazil
United Nations World Food Programme
Ashleigh Black
Former Director of Congressional Relations
Chicago Council on Global Affairs
Rafael Fábrega
Director
Food for Development Office
Tetra Laval AB
Stanley C. Garnett
Former E.D., GCNF
Former Director, Child Nutrition Division, USDA
Krysta Harden
Vice President, Public Policy
Chief Sustainability Officer
DuPont
Kate J. Houston
Director of Corporate Affairs
Cargill, Inc.

Susan Neely, CAE
President and CEO
American Beverage Association
Barbara E. Noseworthy
Principal
Global BT
Janey Thornton, Ph.D, SNS
Former Deputy Under Secretary
USDA Food Nutrition and Consumer Services
Gene White has provided critical leadership to the Global Child Nutrition Foundation since it was first organized in 2006. Internationally, Gene has provided guidance for school feeding  programs around the world, including in Tunisia, Paraguay, and China. Gene was formerly President of both the School Nutrition Association and the California School Nutrition Association. Prior to that, as the former Assistant Superintendent and Director of Child Nutrition Programs for the California State Department of Education, she was responsible for federal and state programs that served daily meals to over 2.5 million children. Gene previously served as the Director of School Food and Nutrition Programs for the Sierra Sands Unified School District in Ridgecrest, California.
A native of Ohio, Gene received her undergraduate degree in Food and Nutrition from Miami University in Ohio and a Master's Degree in Nutrition from Ohio State University. Gene lives on Whidbey Island in Washington State where her volunteer work has included helping local school districts develop wellness policies to prevent obesity and promote student health, assistance to the local food bank, and promoting food preservation techniques in a Native American community.
Gene White (WFP/Ivan Canabrava/Illuminati Filmes)
Executive Director
Arlene Mitchell was appointed Executive Director by the Board of Directors of Global Child Nutrition Foundation in April 2014. Prior to that, Arlene served for nearly six years at the Bill & Melinda Gates Foundation, where she was Deputy Director for Access and Markets in the Agricultural Development Program.
Earlier in her career, she served as an executive in the United Nations World Food Programme (WFP) where she led the global school feeding effort; managed international technical assistance and training activities for the U.S. Department of Agriculture; and was both a volunteer and staff member with the U.S. Peace Corps. Arlene's varied experience also includes running a restaurant and a snack machine business, invalid care, and a variety of other gambits.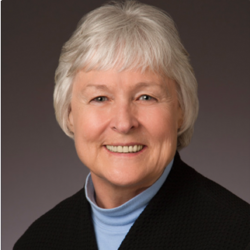 Program & Operations Officer
Will McMahan has served as the GCNF Program and Operations Officer since 2014. Will manages GCNF programs, events, membership engagement, and operations. Prior to joining GCNF, Will was a Project Manager in the international development field, working with the philanthropic company williamsworks and with health care professional services group STG International, Inc.
Will began his career with the U.S. Peace Corps, where he spent time working on healthcare and youth education programs in South Africa and Niger. Will is from Fort Collins, Colorado. He received his undergraduate degree from Dartmouth College.