The Opportunity
School meal programs hold the potential to impact millions of children's health, learning, and development.
Nutritious food helps children to lead healthy, productive lives. There is an immediate opportunity to reach 65 million school-age children who currently attend school but do not get enough to eat.
[ultimate_spacer height="50″ height_on_tabs="40″ height_on_mob="30″]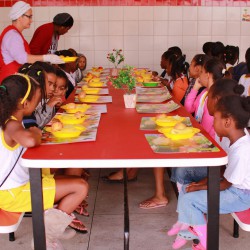 School meal programs offer job creation and markets for produce, products, and services.
Evidence shows that locally-sourced school meal programs have wide-reaching effects across sectors, especially increasing children's educational outcomes, improving children's physical development, and ameliorating the effects of chronic hunger.
There is increasing evidence that school meal programs can have a positive effect on agricultural production and economic growth.
School-based nutrition and nutrition education programs can achieve long-term behavior change.